This page is in Dutch unfortunately. It still has to be translated. It was originally written for the Golden Earring fanclub magazine by me. It will also be used in the new print of my Golden Earring Record Research Report whenever its ready.

Cesar (Cornelis Jan) Zuiderwijk: Drums, percussion
Date of birth: July 18, 1948
Place of birth: Den Haag, Holland
Was married to: Marianne Vreewijk (Aruba, 1994-2001)
Star sign: Cancer
Color of hair: Black
Color of eyes: Donker
Length: 1.85 meter
Hometown: Den Haag, Holland
Son: Casper Zuiderwijk (11-10-1984)
Daughter: Selma Zuiderwijk (11-07-1989)



Cornelis Johannes (Cesar) Zuiderwijk, was born on July 18, 1948 op de Bierkade 4 in Den Haag. Bierkade 4 was een gebouw van Gemeentewerken (administratie) waar zijn vader concierge was. Op zesjarige leeftijd verhuist hij iets verderop naar het Zieken in Den Haag. Hij begint op 12-jarige leeftijd aan zijn eerste gitaarles.Hij houdt dat 2 jaar vol en stopt er dan mee omdat hij de gitaar nooit zuiver gestemd krijgt. Bovendien vindt niemand het mooi als hij op het instrument speelt. Ook vertelt hij later dat het overlijden van zijn vader (als gevolg van longkanker toen Cesar 13 jaar was) waarschijnlijk een aanleiding was om te gaan drummen en zo zijn opgekropte agressie kwijt te kunnen. Hij stapt over op drums als er bij de schoolband "The Sexplosions" een vacature vrijkomt. Zijn eerste drumstel bestaat uit een bonte verzameling van koektrommels, augurkenblikken, hoedendozen, potten en pannen enzovoorts... Hij krijgt zijn grote kans als de drummer van "Rene And The Alligators" een vinger breekt. Daarna is zijn carriere niet meer te stuiten. Via "Hu And The Hilltops" en "Livin' Blues" belandt Cesar in 1970 in Golden Earring. Zij kennen hem al van zijn drumwerk in hetzelfde gebouw waar ook de Golden Earring repeteerde. Bij het eerste optreden met de Earring moet Cesar gelijk met de billen bloot. De band speelt op een groot festival in Aken (Duitsland) met onder andere de Engelse band "The Free" voor 30.000 bezoekers. Het optreden is een succes. Het eerste album waarop Cesar te horen is, is "Golden Earring" (Wall Of Dolls). Back Home is the first single on which Cesar can be heard. Cesar heeft er nooit een geheim van gemaakt graag clown te willen zijn.

Meanwhile an offer to join rock band "The Who" after the decease of their drummer Keith Moon was declined. Cesar mentioned in several interviews he has been inspired a lot by Keith Moon but couldn't let his Golden Earring friends down by accepting the offer and so Cesar .

Meanwhile in the middle of the Seventies Cesars drumsolo was spectacularly improved and became famous of the leap over his drumkitwordt afgesloten met de fameuze sprong over zijn drumstel waarbij Cesar met de armen wijdgespreid en een drumstok in iedere hand while a magnesium flash bomb exploded behind him. During the USA-tours many contactswith felow musicians were made and Cesar made it a habit photographing the persons while putting on an artificial (red plastic) clowns nose. Hij fotografeert Jan en alleman met het clownsneusje op. Deze fotootjes kun je nu nog regelmatig terugvinden als illustraties in de Slagwerkkrant bij de advertenties van Music Station (Cesars muziekschool) Cesar zelf zegt daarover in het "Haagsche bluf"; Clown spelen is bijna net zo leuk als de beest uithangen achter een drumstel" Na een Amerikaanse tour ontstaat er ophef over het bezit van een pistool dat Cesar uit Amerika gesmokkeld zou hebben in zijn drumstel. Uiteraard wordt door de media de zaak opgeblazen en verdraaid. Toch resulteert het in een celstraf van een maand. Een maand waarin de Earring niet optreedt. Het leven van een drummer kent zo zijn ups en zijn downs. Later in de jaren tachtig en negentig worden allerlei elektronische gadgets als getriggerde perspex kubussen, een electronisch drumjasje, een opblaasbaar drumstel en een "stokkenschieter" door Cesar gebruikt voor zijn solo. Ook trekt Cesar vaak gekke bekken. Je ziet dit regelmatig tijdens televisie optredens en ook de fotografen op de eerste rij maken dit vaak mee. Dit levert mooie foto's op.

Cesar wordt in interviews en het boek Haags(ch)e bluf omschreven als "dromer" en "bon-vivant". Feit is dat hij graag met zijn Jeep het Scheveningse strand onveilig maakt(e) en voor een goed glas whisky of cognac is hij altijd te vinden. Inmiddels is Cesar ook vader van twee kinderen en gaat het er allemaal wat rustiger aan toe.

In 1985 opent Cesar samen met Rinus de muziek winkel "Rock Palace" in de binnenstad van Den Haag nabij zijn huis. Een van de hoogtepunten in zijn carriere vindt plaats op Cesars verjaardag in 1986. Het eerste Scheveningse "beachconcert" vindt plaats en maar liefst 200.000 (!) Nederlanders op het strand zijn samengekomen viert hij zijn feestje. In 1989 speelt hij samen met Jasper van het Hof in zijn solo project "Labyrinth" en het Rotterdam Philharmonisch Orkest in de Rotterdamse Doelen. Enige maanden later wordt dit optreden gevolgd door een kleine tour. 1991 brengt de opening van de Golden Earringstraat in Almere. Uiteraard zijn de heren er ook bij en na de officiele opening neemt Cesar het straatnaambord mee naar huis. Som etime later newspapers reported the street name sign was stolen, which also promoted the band some more. In 1992 Cesar is one of the driving forces behind the amongst drummers wellknown "1000 Drummers Project" on the river Maas in Rotterdam. Cesar manages to organise an event no one ever thought possible: 1000 drummers with their drumkits on floating pontons in a river performing music pieces together. A few years later Cesar opened his own music school called "Music Station" based at the Soestdijkeskade The Hague, after he had given dumming lessons for sveral years in the basement of his The Hague home. Drummer Jim Chapin is often seen as his guest and Cesar learns a lot of this experienced drummer. Cesar ziet hem als een vader en Jim logeert dan ook regelmatig bij hem en giving drumclinics at Music Station. In 1999 Cesar went to Mostar (Kosovo) voor de stichting Warchild naar to give music lessons and drum demonstrations for children in warzones providing them some distraction from all the horror. Het bloed kruipt waar het niet gaan kan en Cesar gaat zijn clownskunsten vertonen in het theater want in 2000 is een theatertoernee met "Percossa Percussion" van start gegaan. In deze show staan behalve percussie en drums ook verhalen van Cesar over de meest uiteenlopende onderwerpen centraal. Van deze show is ook een DVD verschenen. En zo is de cirkel weer rond van clown naar drummer....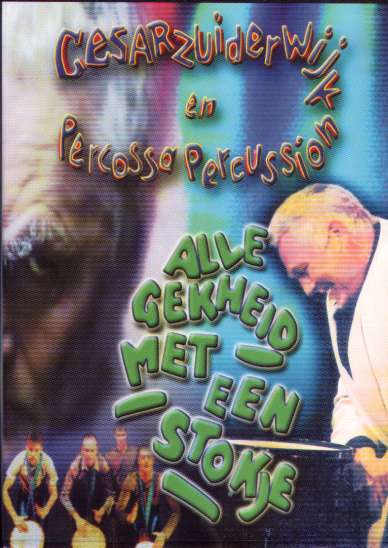 Anno 2002 is Cesar veel bezig met zijn drumschool Musicstation.
In 2003 Cesar gave some drum clinics and performed with The Clarks at the annual organised Kaderock 2003 in Den Haag.
Cesar does several mini gigs with Percossa Percussion again (Opening cultural year 2004 The Hague). In December 2004 a youth dream became reality when Cesar did perform several shows in a real circus with Percossa percussion at the Ahoy Christmas circus 2004. He is also present at the re-opening of the drum section at Rock Palace The Hague in 2004 (He gave a small performance together with Di-rects drummer Jamie Nieuwland (?) and Jim Chapin.)
Cesar does many gigs and opened an Eneco store in Alkmaar with his music, is present after completing a part of the Randstad Rail work at The Hague and plays on the construction site, gives some clinics (one in a library in Bergschenhoek) and does more promotional stuff like workshops.
In May 2006 Cesar opened another Music Station at Waterfront in Rotterdam. One of the teachers is Golden Earring second bass-tech Daan Breukhoven.
In September 2006 Cesar startet touring solo again with his theatre program "Slagdroom". The premiere was on September 07, 2006 at Culemborg's Muziek Metropool store. The Dutch Music Maker 8-2006 issue has a large interview with Cesar Zuiderwijk about his childhood and Slagdroom theatre show. The tour was continued into 2008. On June xx, 2008 Cesar joined with Percossa Percussion again during a 45 minute performance at the The Hague Kaschba festival.
Cesar Zuiderwijk was awarded with the The Hague Culture Prize 2007. He received this prize at Theater Diligentia in May 2008, consting of an award and 25.000 euro's which he spent of teaching mentally disabled persons with outstandig musical talents.