This page is partly in Dutch unfortunately. It still has to be translated. The original text was written in Dutch by me for an article in the Golden Earring fanclub magazine and now updated. It will also be used in a new print of my Golden Earring Record Research Report whenever its ready. In the meantime it has been used by several websites and magazines (most of them never gave me the credits for it like the well known Slagwerkkrant despite mails from my side....) The page is now being update with several of the things Barry Hay did. More detailed information can be found in the Golden Earring Story on this Golden Earring Record Research website.

Barry (Andrew) Hay: Vocals, guitar, saxophone, tambourine and flute
Date of birth: August 16, 1948
Place of birth: Fyzabad, India
Married to: Sandra Bastiaan (February 22, 1992, Las Vegas, USA)
Star sign: Leeuw
Color of hair: Brown
Color of eyes: Grey-green
Length: 1.85 meter
City: Amsterdam, Holland (since 2001) and Curaçao (since 2007)
Daughter: Isabella Maria Hay (06-10-1990)
Daughter: Gina Louise (06-05-1999)



Barry Andrew Hay was born on August 16, 1948, Fyzabad in India. His father was in the British army in India. At the age of 8 Barry and his mother came to Nederland and Barry is placed at several boarding schools. (One of them located in Ommen). He came in touch with music when he is 12 years old and started to playback music in front of the mirror with a selfmade white cardboard guitar. The older boys played rock and roll: Elvis Presley, Buddy Holly, The Everly brothers etc.

Once home in The Hague he got guitar lessons from jazzguitarist Theo Konijn and started with his buurjongens the band "Don't". George Kooymans visited a gig by coincidence and didn't know what to think of it. Soon afterwards Barry joined "The Haigs". Barry was asked, also because of the fact he speaks English fluently. The Golden Earrings and The Haigs performed several times during the same programs. Of course there was rivalry between both bands.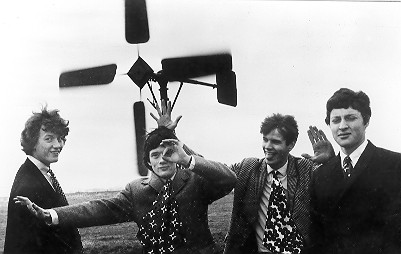 Later on Barry joins "Shocking Blue", a new band by Robbie van Leeuwen. But soon Barry got an invitation for a informative talk with "The Golden Earrings" and then decided to join their band after hearing "Sound Of The Screaming Day". He bought a flute and practiced untill he couldn't go on anymore. The first elpee he is to be heard on is the third Golden Earrings album: "Miracle Mirror". The song She Won't Come To Me, which is the b-side of the Sound Of The Screaming Day single, is the first release by The Golden Earrings with their new singer Barry Hay. Barry never left the band ever since.
Barry joined several music projects from and\or with friends in the Seventies. One of them is Group 1850 with the Polyandri album. The recordings for this lp were mainly made in January 1974. The recordings were many years later in 1997 released on cd as well. (Twilight Tone label, label number TT 013)
Opvallend is de samenzang met gitarist George Kooymans. There are not many bands waar zo goed en zo vaak binnen een song de lead vocals are shared and supported as Golden Earring does. One could say this is a speciality of the band. Je zou kunnen zeggen dat dat een kenmerk van de band is. But it demands a flexibel opstelling from Barry die daardoor ook ruimte krijgt om een partijtje slaggitaar mee te kunnen spelen. In de beginperiode van the Golden Earrings Rinus and George who made the compositions, but soon enough Barry Hay took over from Rinus for as far the lyrics were concerned. His foreign stay and mother of English origin provided a good basis for the writing of songs in Engelish.
Together with George Kooymans Barry Hay started their own record label Ring Records and onder de pseudonym the "Circle Brothers" they produced several singles and lp's for other bands. After several hard attempts with Boom Boom Mancini for example the activities for their label were soon enough on a low level. Wel verschijnen de tweede solo lp van zowel George als Barry nog op hun eigen label Ring Records.
In interviews and the book Haags(ch)e bluf Barry Hay is characterised as "bon-vivant, levensgenieter, sportive, weinig remmingen kennend" Zijn sportieve instelling komt tot uiting in het beoefenen van tennis, vechtsport Kendo en het trainen in de sportschool. An other sidestep from Barry is the presentation of tv-programs. He did present "De geschiedenis van de Popmuziek", "Heeren van Amstel" and also did the nasynchroniseren of cartoons like All Dogs Go To Heaven (Dutch title: Alle honden gaan naar de hemel) and also for Fern Gully Barry lend his voice.
In the meantime Barry is married since 1992 with Sandra Bastiaan and has 2 daughters called (Isa)Bella and Gina. Barry is settled now and his "Rock and roll" lifestyle is way behind him now. Barry heeft een voorliefde voor mooie auto's. Zo reed hij al onder meer in een AC Cobra, Austin Glider en zijn laatste auto is een cabriolet uitvoering Saab Viggen which he bought in 2000. After moving to Amsterdam this car has been sold again and traded in for another one. In 2005 Barry bought a Cadillac. At Curaçao he has another brand of car.
Barry lived for about 25 years in The Hague (and until 2001) in the Barentszstraat in the Zeehelden neighbourhood. At the annual local event Zeeheldenfestival he joins female singer Anouk on stage. This ended up some time later in an invitation to Anouk to record some songs with Barry and George. They also write the song Mood Indigo for her which is recorded at George his home studio and so due to this help Anouk became a well known pop artist herself with a record deal. Her first album and single became huge successes.
In 1999 Barry became an actor again for a small role in the movie An Amsterdam Tale, which was also released on DVD.
Barry uses Golden Earrings sabbatical year (2000) for touring with several of his musical friends and amongst them is Ocki Klootwijk. These gigs took place in small venues like bars and café's. The band is known under the name The Barking Dogs. Barry himself sometimes called these performances "Optreden met De deftige dames". From this small solo project the only official release on cd is the Beatles song cover Happiness Is A Warm Gun. (2 meter sessies) In 2000 Cuby and the Blizzards celebrate their 35 year anniversary and the cd Hotel Grolloo featured a song with Barry Hay as well. He also joined with Cuby and the Blizzards on stage at May 10, 2000 for their 35 year jubilee concert at the Amsterdam Paradiso which was recorded for cd and dvd as well. (Released 2001)
Tevens zijn er al jarenlange plannen voor het schrijven van een kindermusical. Wie weet komt het er ooit nog eens van..... In 2001 Barry moves to Amsterdam and Golden Earring started touring again. Barry recorded a song for charity with another well known Dutch singer called Andre Hazes... (The song is Crazy Horses, originally performed by The Osmond Brothers)
Barry is seen at many occasions during openings, exhibitions and parties once he has moved to Amsterdam in 2001. His social life has improved a lot since, he admitted in interviews.
March 2004 Barry became seriously ill for several weeks. First a salmonella food poisoning and a pneumonia as a complication were the reason several Golden Earring concerts had to be cancelled.
In 2005 Barry does a guest performance at a Clarks concert at Curaçao. In October of that year his wife Sandra released a childrens book called "Bibi moet plassen" with text by Barry. The book is promoted during some book signing sessions in Den Haag and Amsterdam and on both occasions Barry Hay is present to support the first book release of Sandra Hay. It was sold in a limited edition as well with an additional cd in the book.
Barry also recorded a song called xxx for the cd with was enclosed in Wouter Stips book "Ongeveer zoveel hou ik van jou". In Spring 2005 Barry can be heard on "I Don't Want To Be" in duet with singer Beth Hart. This song is also a bonustrack on her (2005 re-issue) album "Leave The Light On".
In February 2006 Barry did another concert with Cesar Zuiderwijk and the Clarks at Curaçao. In 2006 Barry's house at the Nicolaas Maesstraat 94 in Amsterdam was sold and they moved to a smaller house. They also built a house in Curaçao and moved to Curaçao in 2007. From then on Barry kept on traveling back and forth every month in between Golden Earrings shows.
In 2008 Barry Hay recorded the album "Big Band Theory" with the Metropole orchestra which was released on the famous Blue Note record label. He also performed the album live at a show at the Paradiso, Amsterdam in September 2008.
Barry Hay keeps on performing with Golden Earring but the numbers of concerts are limited as the band is making pre-recordings for a new Golden Earring cd. Hay was still seen on television in ads for Eyewish Groeneveld promoting glasses. In November 2010 Barry Hay will be amongst the participants for the Dutch version of the "Night Of The Proms 2010".
Meanwhile documentary maker Hadassah de Boer is working on a documentary about the life and work of Barry Hay which will be shown in Fall 2010 on Dutch tv in the program "Het uur van de wolf." The documentary is probably called "Kissing A Dream"