Golden Earring Naked III album presentation

LAST UPDATE: March 4, 2005
On February 25, 2005 Universal Music gave an album presentation for Golden Earring's new acoustic live album Naked III. The band was introduced by a member of Universal Music. Then they played a 30 minute show on the stage they recorded their Naked III album last year. But what a difference it was. Last year it was over 30 degrees Celsius outside and about 50 inside, this time the temperature was about 1 degree Celsius outside. So the band saw many fans and friends again in front of their stage in a good mood and much better conditions than last year. Many persons who attended did win their cards by participating in give aways, but some of the die hard fans drove many kilometers around the country to collect cards from persons who did win but didn't go to the presentation. I myself was lucky because Nico Hamerslag of the Golden Earring Museum was ill and offered me his cards.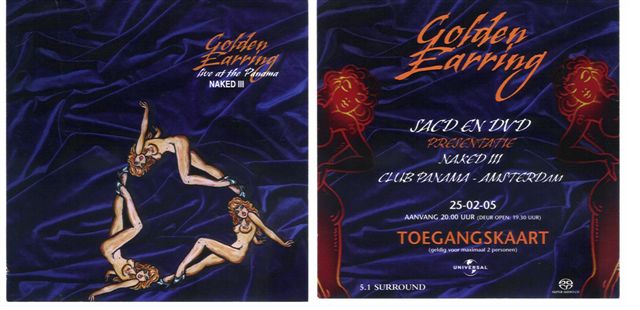 During the Naked III album presentation, Golden Earring played a short set, this was the setlist :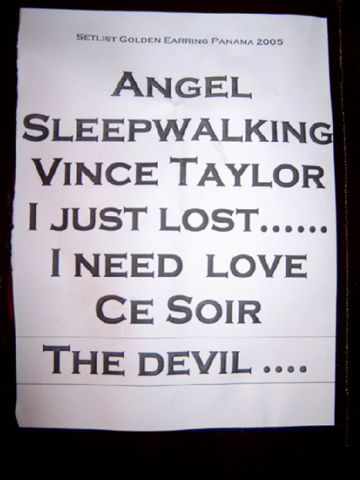 Amongst the friends of the band I spotted were Okkie Klootwijk, Theo Braams (Barking dogs), Xandra Brood, a Barry Hay look-alike, Patricia Steur, Erik Hazelhoff Roelfzema, Henk Schiffmacher and his wife Louise van Teylingen, photographer Kees Tabak and many many more.....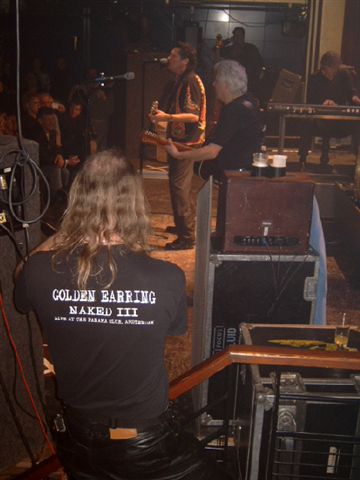 The band received out of the hands Of Willem van Kooten (DJ Joost de Draaier annex Red Bullet boss) the first cd's and dvd's of Naked III. A clip from Just like Vince Taylor of this concert can be found at the official site!
After the first cd's and dvd's were given to the band they thanked the audience and every member (exception Rinus) threw their items into the audience to thank their fans! Afterwards the new dvd was shown on a large screen at the back of the stage, while the crew dismantled the equipment. Somewhat later the band joined the audience for photo's and autographs for their fans.
A filmcrew of RTL Boulevard Shownieuws made recordings and these will be broadcasted on tv on Monday 28 probably! More of my photo's will be published here soon.....
I LIKE TO THANK NICO HAMERSLAG OF THE GOLDEN EARRING MUSEUM FOR HIS CARDS FOR THE PRESENTATION! BECAUSE HE WAS ILL HE GAVE ME THE CHANCE TO BE THERE! A TRUE FAN, GET WELL SOON AND THANKS AGAIN!
ALL PHOTO's COPYRIGHT Casper Roos\Golden Earring Record Research 2005